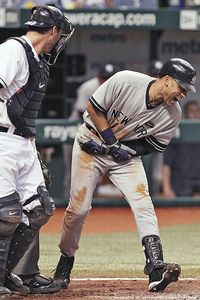 So Jete admitted, in a post-game interview, what everybody in the world knew except the ump – the pitch hit the bat instead of him. Nonetheless, he hammed it up like an Argentinian striker taking fire from the Grassy Knoll. Fakes his way on base, and later scores.
Since then, I've heard all kinds of sports pundits saying good on him, that's exactly what you do to help your team, etc. (I wanted to choke Mark Schlereth this morning – normally I love the guy, but this was a full-throated opus in praise of foul play). Blah blah blah. I don't recall any of these folks praising all the divers in last summer's World Cup, though.
But I guess that's different, huh? Because it's not cheating if America's Icon of Fair Play does it.